Asymbl Time
Experience modern timesheet management with Asymbl Time, an intuitive solution that streamlines and automates time capture, enhances productivity, and ensures accuracy for staffing and recruiting firms.
Learn More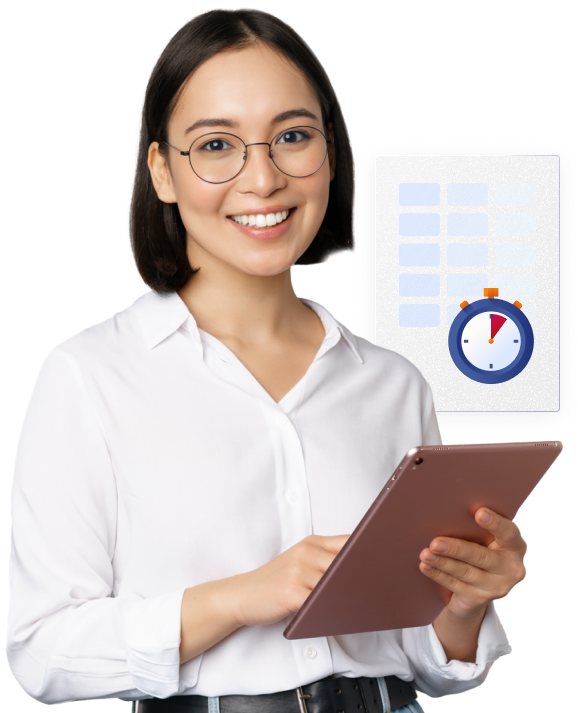 Overview
Take Control of Time Management, Stress-Free
Asymbl Time is a cutting-edge solution for time management. Designed for seamless timesheet management, it provides the added advantage of boosting overall productivity through advanced pay rules and rate cards.
With a mobile-first approach, Asymbl Time allows diverse roles to track time on-the-go. As a result, you experience efficient workflows, greater accuracy in time capture, and enhanced operations. Your organization benefits from time savings and stress-free timesheet management.
Outcomes
Amplify Productivity with Adaptable, Automated Timesheet Management
Complex rate cards, diverse schedules, and complicated pay rules are no longer a problem with Asymbl Time taking advantage of Salesforce's native automation engine.
Increase Efficiency
Eliminate the busywork of manual data entry and the added headache of switching between systems. Asymbl Time allows staffing firms and corporate recruiters alike the freedom to manage employee time tracking under one roof and seamlessly plug into the entire Salesforce Customer 360 ecosystem.
Ease Collaboration
Get your internal teams to communicate clearly and collaborate effectively. Staffing firms are easily juggling thousands of timesheets every week. With Asymbl Time, you can manage employee timesheets and communicate with your hiring managers and staffing firms, all in one place.
Maintain Compliance
Make sure time tracking is logged correctly and that each employee is compensated accordingly. With an audit trail of information, you can keep your organization or staffing firm in compliance with the latest workforce regulations, labor laws, overtime, holiday pay, etc.
Gain Real-Time Insights
Leverage one system for your entire business operations. From sales to timesheets, Asymbl Time works in tandem with Salesforce Customer 360 to assess workforce capacity, manage workloads, and anticipate future hiring needs for your staffing firm or corporation.
Capabilities
Time Management, Made Easy
Time tracking doesn't have to be an administrative burden. Give your talent the tools they need to log time quickly and accurately.
Time Capture & Automation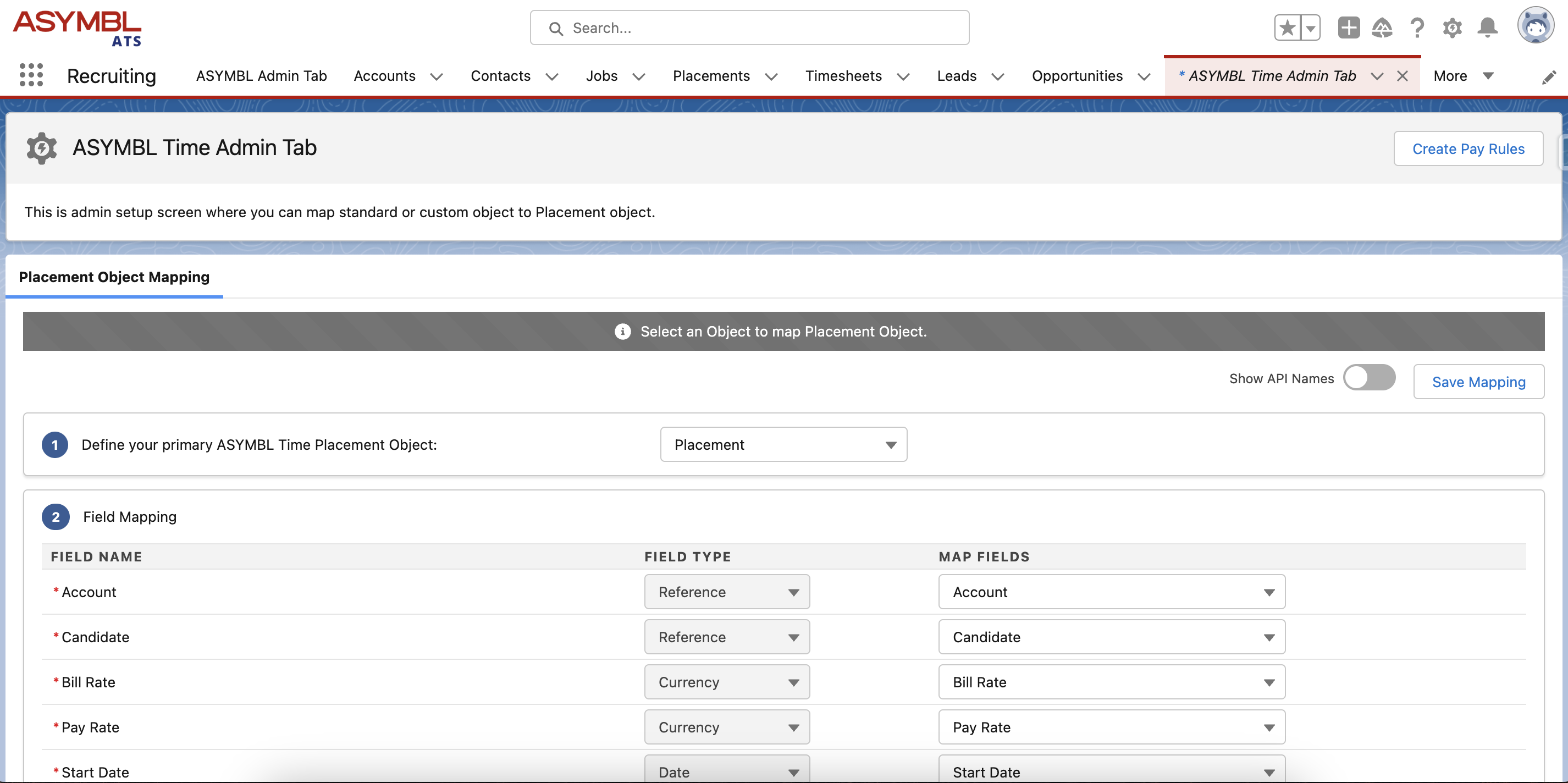 How It Works
Assemble Your Tech Stack with Salesforce + Asymbl
Asymbl is a new approach for providing business process-specific applications intentionally designed as bolt-on solutions to Salesforce's Customer 360 portfolio of powerful apps, services, platform, and partners.
Features
A Full Toolkit for Staffing & Recruiting
With Salesforce's native offerings alone, you have access to less than half of the highest-value solutions. With Asymbl's bolt-on approach, you can leverage a full toolkit of functionality.
ATS
Developed to work natively with Salesforce's Customer 360 portfolio, Asymbl ATS enhances the agility, scalability, and customization of your recruitment efforts.
Candidate Screenings
Organize candidates' resumes, interview schedules, and internal feedback on every candidate as they progress throughout the hiring process.
Recruitment Automation & Engagement
Streamline hiring decisions and keep workflows in motion as candidates progress. Send follow-up emails to job seekers to maintain clear and concise communication.
Parse, Search & Job Match
Move top resumes to the top of the pile faster with advanced filtering options. Use intuitive search functionality to revisit candidates or move them ahead in the hiring process.
Document & Contract Management
Once it's time for candidates to sign on the dotted line, make sure you have signed documents and contracts secure and organized.
Marketplace
Get Started Today with the Marketplace
Ready to leverage the full functionality of Asymbl's bolt-on approach? Get access to our plug-and-play partner apps, which can be easily integrated into Asymbl Time without any required customization, a complex tech stack, or software bloat.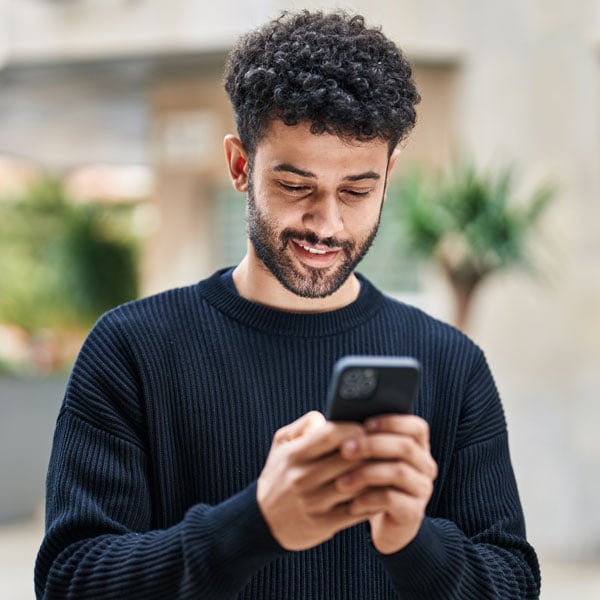 Pricing
Simple Pricing, Simple Plans
Get more accomplished with lower overhead costs. Asymbl Time offers a flexible pricing plan that's affordable for staffing firms and corporate recruiters of all sizes.
Starting price, additional charges based on volume of active employees, billed annually
Minimum 12-month annual contract

Discounts based on volumes and term

Additional Experience Cloud licenses not included
Get Started